Invisalign in Dallas, Texas
If you are looking for the right dentist to help you achieve your dental goals of a beautifully straight smile, you are in the right place. At Highland Park Dental in Dallas, Texas, Dr. Aaron Jones offers Invisalign.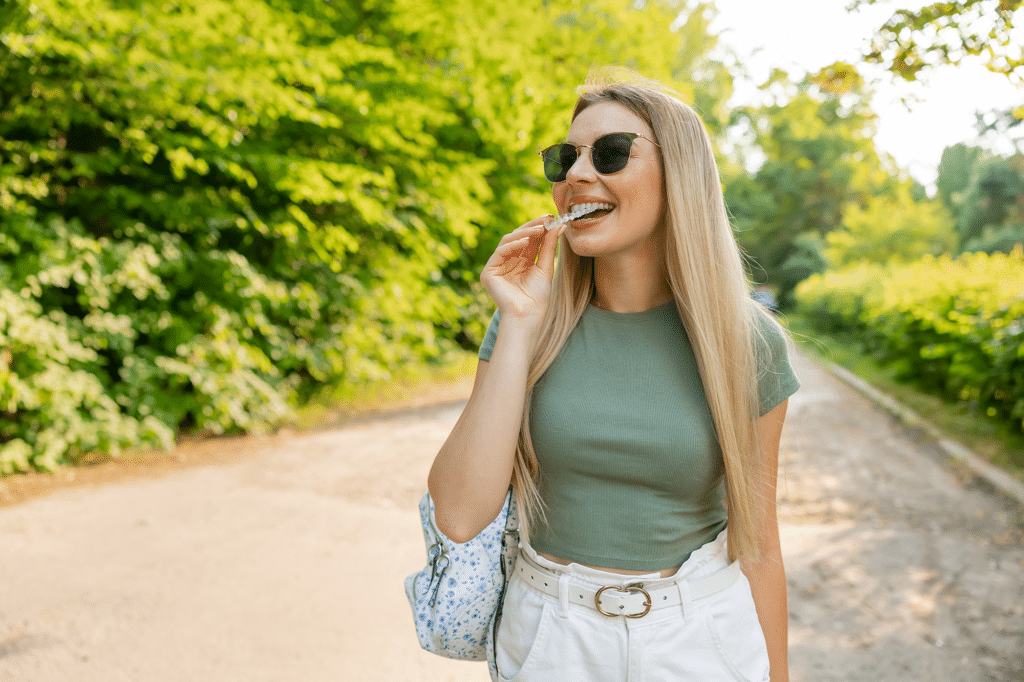 What is Invisalign?
Is a unique, state-of-the-art treatment option to help patients realign their smiles and repair bite concerns. To get Invisalign, first, schedule a consultation appointment with Dr. Jones. You and your dentist will discuss your dental problems and potential treatments during this appointment. Then, Dr. Jones will scan your teeth digitally with our iTero and send the scan to a laboratory. At the lab, they will create your Invisalign clear aligners. Next, you will come in for a fitting. Your dentist will discuss the guidelines further and answer any questions you may have. For the next part of your treatment, you will visit the dental office every two weeks for a new set of clear aligners. With each clear aligner, you will be one stage closer to achieving your dream smile. 
What are the Benefits?
Many patients compare traditional metal braces to Invisalign. Both are excellent orthodontic options. However, there are different benefits to each choice. For example, many patients say that Invisalign is more comfortable, leads to better oral health, and can provide quicker results than traditional metal braces. 
More Comfort. Many patients state that Invisalign is more comfortable than traditional metal braces. Traditional metal braces use metal archwires and brackets to align your teeth. In contrast, Invisalign uses SmartTrack technology to make the clear aligner more comfortable to wear, remove, and replace the aligner. Another advantage is that patients can remove the aligner whenever they like, increasing their comfort with the device. 
Better Oral Health. Patients can benefit from better oral health when they use clear aligners. Patients cannot remove the braces to clean their teeth with traditional metal braces. The brackets leave a large number of obstacles to clean around. Often, patients use special flossing tools to reach around each tooth. Even with this technique, patients may still experience difficulty cleaning their teeth. With Invisalign, patients simply remove the aligner and clean their teeth with no obstacles. Because they are removable, it can lead to better oral health during and following the orthodontic treatment. Many patients experience dental decay and gum disease following orthodontic therapy because there are many obstacles to cleaning their teeth. Overall, using clear aligners instead of traditional metal braces can improve oral health. 
Quicker Results. A typical traditional metal braces treatment can take up to two or more years, while an Invisalign treatment can be completed in one year. The difference in treatment times comes down to the precision of treatment. Invisalign treatment is more precise than traditional metal braces, so it is easier to achieve your desired appearance in a shorter time. 
How to Know if It's Right for me?
Invisalign may be right for you, depending on your current oral health condition and treatment goals. This process has helped numerous people realign their teeth and correct bite concerns. Contact Highland Park Dental to determine if Invisalign is a treatment option for you. 
Do I Need a Retainer Following Invisalign Treatment?
Most likely, Dr. Jones will recommend a retainer following the treatment. A retainer worn at night helps keep the teeth' appearance straight. Over time, your jawbone and teeth can shift, causing misalignment again. A retainer can keep your teeth straight. Invisalign offers a retainer brand named Vivera for patients. Talk to your dentist about which retainer may be right for you. 
Invisalign can enhance the appearance of your smile. If you are concerned about your bite or the alignment of your teeth, Invisalign may be able to help you. For more information  schedule an appointment, call our office.